Are you planning to buy new clothes for your son or daughter in the near future? If so, you should consider choosing jeans. This classic and versatile garment isn't restricted to adults. While many adults wear jeans on a regular basis, so do kids. Kids' jeans are available in many of the same styles as their adult counterparts, allowing for an equal level of versatility. If you're still on the fence about purchasing your jeans for your son or daughter, keep reading to learn seven reasons why they are amazing.
#1) Conceals Stains
Jeans are more effective at concealing stains than other types of pants. Kids, unfortunately, can be messy. When eating or drinking, they may spill their food or beverage on their clothes. When playing outdoors, on the other hand, kids may get mud or dirt on their clothes. Jeans won't prevent this from happening, but they will minimize the risk of visible stains. If your son or daughter gets a foreign substance on their jeans, it may now show thanks to the naturally dark, stain-concealing properties of denim.
#2) Low Maintenance
Not only do they conceal stains, but kids' jeans are also low maintenance. You don't have to wash your son's or daughter's jeans each time they wear them. Rather, kids' jeans can typically be worn for several consecutive days. And when they do get dirty, you can clean them in the washing machine. Dry cleaning is always an option, but jeans are safe to clean in the washing machine since they are made of denim.
While kids' jeans are better protected against stains than most other types of kids' pants, they may still develop an occasional blemish or two. If you spot a stain on your son's or daughter's jeans, though, you should be able to clean it using warm water and detergent. You don't need to wash the jeans. Rather, clean the stained area by blotting it with a washcloth and detergent. As you blot it, the stain-causing compounds will be released from the denim, resulting in a cleaner appearance.
#3) Protected Against Ripping and Tearing
Have you ever purchased a pair of pants for your son or daughter, only for them to rip or tear just a few weeks later? It's frustrating when you finally find the perfect pair of pants for your son or daughter but later discover that they've become damaged. All garments can rip or tear when physically stressed. The good news is that jeans offer a higher level of protection against such damage than nearly all other types of kids' pants. If you want your son's or daughter's new pants to last, there's no better choice than jeans.
If you're still worried that they will rip or tear, you may want to choose selvage kids' jeans. Selvage kids' jeans are just like those made for adults: The bottom of each pant leg has a hem where the denim material is folded up — typically just by a few inches — and then sewn into place. With a hemmed bottom, selvage kids' jeans are practically immune to ripping and tearing at the bottom.
#4) Color Variety
Kids' jeans are available in a variety of colors. No matter what color your son or daughter prefers wearing, chances are there's a pair of kids' jeans to match their preference. It's up to you, however, to find it.
What color jeans should you choose for your son or daughter? It's not a bad idea to ask your son or daughter for input. With that said, indigo and light blue are universal colors that have become synonymous with jeans and other denim garments. Ever since jeans first hit the market in the late 1800s, they've been manufactured in indigo and light blue colors.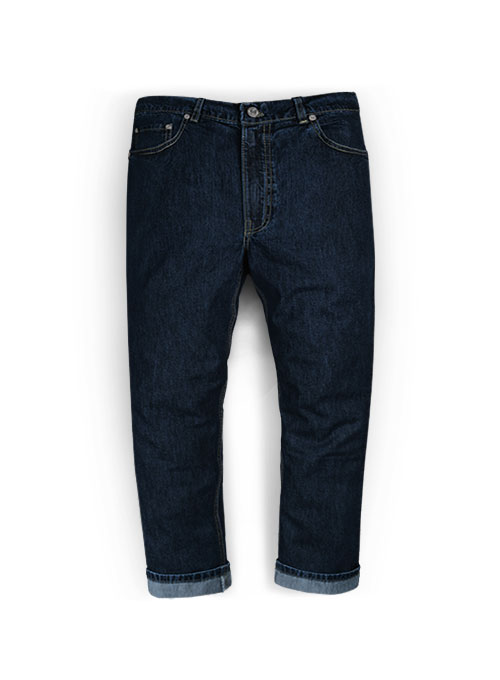 #5) Hypoallergenic
Jeans are hypoallergenic, so they shouldn't cause skin allergies when worn by your son or daughter. The same can't be said for other types of pants. Pants made of other materials — not denim — have a higher risk of causing skin allergies. If your son or daughter suffers from dermatitis or a similar skin allergy, he or she may develop a breakout when wearing other types of pants.
Jeans are made of denim, which is just another name for cotton with a warp-face weaving pattern. Cotton, however, is a soft and fluffy hypoallergenic material. Therefore, jeans are hypoallergenic as well. With them, you can rest assured knowing that your son or daughter will be comfortable and won't experience a skin allergy attack.
#6) Style Variety
You can find kids' jeans in a wide variety of styles. Some people assume that there kids' jeans are limited and only available in one or a few styles, but this couldn't be further from the truth. While there are plenty of "standard" styles in which kids' jeans are made, there are many alternative styles as well.
Here are some of the different styles you can expect to find when shopping for kids' jeans:
Boot cut
Straight leg
Baggy
Loose fit
Stretch denim
Lightweight denim
Heavyweight denim
Washed denim
Raw denim
#7) Value
Finally, kids' jeans offer exceptional value when compared to other types of kids' pants. As a parent, it's disheartening when you buy new clothes for your son or daughter, only to replace them shortly thereafter. No garment lasts forever, and kids' jeans are no exception. The good news is that kids' jeans last longer than most other types of kids' pants.
You can still purchase other types of pants for your son or daughter, but considering all the benefits they offer, you shouldn't ignore the value of jeans. They conceal stains, are easy to maintain, are resistant to stains and more. For these reasons and others, they make an excellent addition to any child's wardrobe. Just remember to take your time to find the right pair of jeans for your son or daughter.