Is your wardrobe ready for the New Year? Like with previous years, 2021 will bring new fashion trends, some of which revolve around denim. Denim has quickly become one of the world's most popular textiles. Consisting of cotton in which the weft passes under at least two warp threads, it's used to make everything from jeans, jackets, skirts, dresses and more. Below is a list of seven of the top denim fashion trends for 2021.
#1) Denim Jackets
You can expect to see more denim jackets in 2021. Also known as jean jackets, they are made of the same denim material as jeans. Denim jackets have been around for many decades, and since that time, they've quickly become a popular choice of casual outwear among men and women alike. They are soft, comfortable, lightweight and versatile.
#2) Selvedge Denim
Selvedge denim has become a popular fashion trend — and it won't slow down in 2021. Selvedge denim is essentially made of the same cotton as regular denim, and it's available in many of the same colors. With that said, the two materials aren't exactly the same. Jeans are considered "selvedge denim" if they feature a cuff at the bottom of their pant legs. Selvedge denim is essentially made by taking a band of denim at the bottom of the pant legs, followed by folding it and sewing it a few inches higher.
Some of the benefits of selvedge denim jeans include the following:
Cleaner and more refined style
Ultra-high-quality construction
Bottom of the pant legs won't drag or otherwise touch the ground
Long-lasting and durable
Available in countless colors, sizes and cuts
Protection from fraying
Looks amazing no matter how they are worn
#3) Boyfriend Jeans
Another denim fashion trend for 2021 is boyfriend jeans. Boyfriend jeans are women's jeans that are designed to fit like men's jeans. Men's and women's jeans, of course, differ in several ways. Men's jeans are often baggier and sit lower around the waist, whereas women's jeans usually have a tighter fit and sit higher around the waist.
Boyfriend jeans are women's jeans, but they fit like a pair of men's jeans. They offer a baggier fit, and in most cases, they sit lower around the waist when worn. The main difference is that they are designed for women, so they have a few subtle nuances that make them particularly comfortable.
#4) Hard-Washed Jeans
More and more people are including hard-washed jeans in their daily outfits. Jeans are considered hard washed if they are made by submerging them in a bath of hot water. During production, they are placed in a tub or drum of hot water. A process known as hard washing, it's designed to pre-shrink jeans so that they don't shrink when washed and dried in the future.
Not all jeans are hard washed. Some jeans are made without being submerging in hot water. As a result, they aren't classified as hard-washed jeans. Only jeans exposed to hot water during production are hard washed. You can include both types of jeans in your 2021 outfits. Nonetheless, hard-washed jeans are expected to become more popular in the coming year.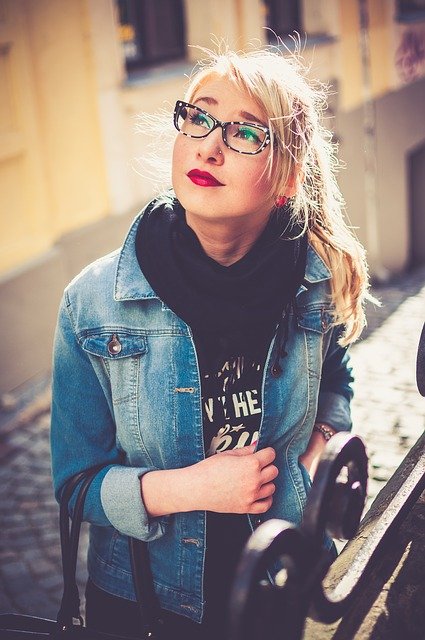 #5) Stretch Jeans
Stretch jeans will become a popular fashion trend for 2021. Not to be confused with skinny jeans, they are characterized by their elastic properties. When you pull them, they'll stretch. At the same time, stretch jeans will retain their original shape, meaning they'll spring back when you stop pulling or tugging on them.
The secret to stretch jeans elastic properties lies in their construction. They aren't made entirely of denim. Stretch jeans are still made mostly of denim, but they contain a small amount of lycra, polyester or a similar elastic material. Even when used in small amounts, elastic materials change the properties of jeans by making them more elastic.
Why should you wear stretch jeans exactly? Aside from being popular, they are very comfortable — even more so than traditional jeans. Since they are designed to stretch, they won't constrict your legs or body when worn. Stretch jeans will stretch with your body so that you can freely move. In turn, stretch jeans are among the most comfortable type of jeans available.
#6) Whiskers
We can't talk about denim fashion trends for 2021 without mentioning whiskers. Whiskers are patterns or marks that manifest in the form of faded streaks. They are usually added to the knees or thighs of jeans. When jeans are produced, manufacturers will add whiskers to these areas, resulting in a unique style.
With whiskers, jeans feature a naturally aged and worn-in appearance. All jeans develop faded streaks over time. It's a natural phenomenon that occurs gradually. You don't have to wear a new pair of jeans for months or even years to achieve these faded streaks, however. An easier solution is to buy and wear a pair of jeans with whiskers.
Jeans with whiskers look aged and worn-in, which is something you won't find in most other new jeans. Most jeans aren't designed with these faded streaks. Rather, they are designed to feature a uniform color and appearance without any visible fading.
#7) Custom Sizing
Custom sizing has become a popular denim fashion trend. Instead of buying jeans in fixed measurements, you can order them custom sized. Custom-sized jeans are manufacturing using your own body measurements, allowing for the perfect fit each and every time. Here at MakeYourOwnJeans, we offer a large selection of custom-sized jeans, including hard washed, stretch, whiskers and more.
There's no substitution for a pair of custom-sized jeans. Not everyone has the same size or shape body. On the contrary, each person's body is unique. With custom sizing, you can rest assured knowing that your jeans will fit your body perfectly.
You can find other denim garments available in custom sizes as well. If you're looking to buy a denim skirt, for instance, you may want to choose a custom-sized skirt. Like jeans, denim skirts can be customized to fit your body.