Not all jeans feature a traditional four-pocket design. While most jeans do, in fact, have four pockets — two on the front and two on the back — some are designed with additional pockets as well as loops. Known as carpenter jeans, they offer a superior level of utility. And while they were originally designed for use among carpenters, they've since become a popular fashion trend. Below, you'll learn more about carpenter jeans, including tips on how to choose the perfect pair for your needs.
Overview of Carpenter Jeans
Carpenter jeans are full-length denim pants that are designed with extra pockets and loops. They are called "carpenter jeans" because they were originally designed for carpenters. Carpenters, of course, are professional workers who cut, shape and install components for residential and/or commercial buildings. While their job requirements vary, they are typically responsible for carrying an assortment of tools. Carpenter jeans assist carpenters in their day-to-day work activities by allowing them to easily carry tools and other items.
Some people assume that carpenter jeans are made of a different material than standard jeans, but this isn't the case. Like most jeans, carpenter jeans are made of denim. Denim is essentially cotton that's constructed with a warp-faced weaving pattern. Using this weaving pattern, it's able to become stronger and more durable, which is why jeans last for such a long time. Regardless, carpenter jeans are made of the same denim as standard jeans. The only difference is that carpenter jeans are designed with extra pockets and loops.
What's the Loop For?
If you look at the pant legs of carpenter jeans, you may discover one or more loops about halfway down. Some carpenter jeans have a single loop, whereas others have two or three even three loops. Unless you're familiar with carpenter jeans, you might be wondering what purpose, if any, these loops serve.
The loops found on carpenter jeans are known as "hammer loops." As the name suggests, they are designed to hold a hammer. Carpenters, as well as other workers in the construction industry, often use a hammer to install components with nails or other fasteners. While some carpenters carry a hammer on a waist-worn toolbelt, others prefer to carry one on their jeans. With carpenter jeans, carpenters can easily carry a hammer without the need for a toolbelt. The hammer is placed through the top of the hammer loop on the carpenter jeans, at which point it remains in place.
Why the Extra Pockets?
In addition to hammer loops, carpenter jeans are designed with more pockets than standard jeans. As previously mentioned, most standard jeans have four pockets. You can find two pockets on the front as well as two pockets on the back. Carpenter jeans are distinguished from their counterparts, however, by featuring more than four pockets. Some carpenter jeans are designed with six pockets, whereas others have eight or more pockets. Regardless, you can expect to find more pockets on carpenter jeans than standard jeans.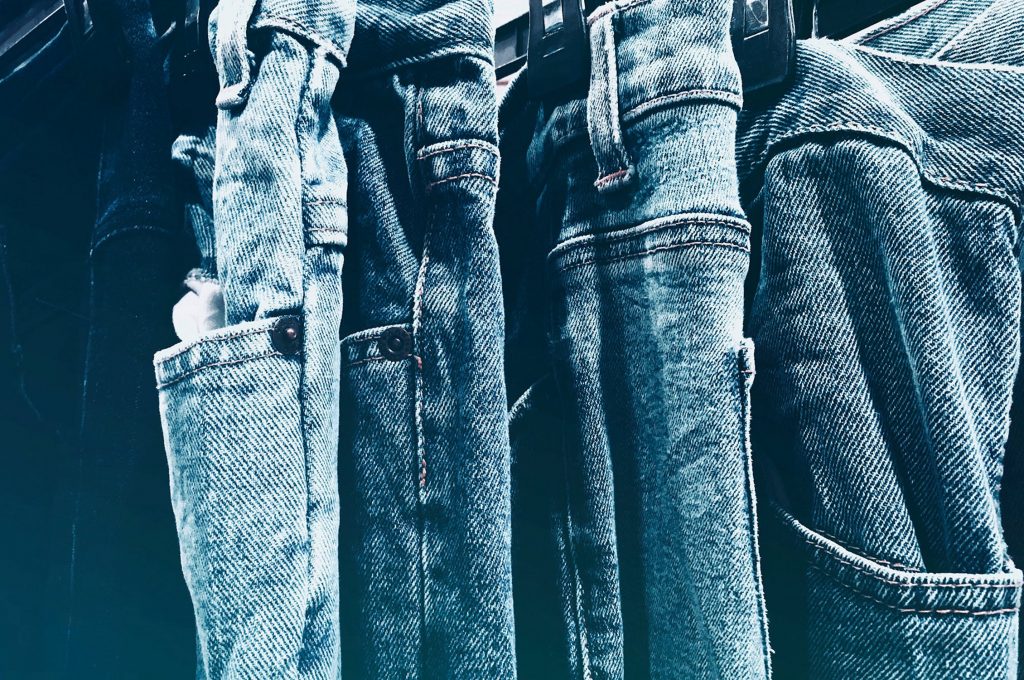 What's With the Small Metal Buttons?
Nearly all types of jeans are designed with small metal buttons — and carpenter jeans are no exception. Known as rivets, they are usually found in areas where two or more sections of denim meet. Carpenter jeans, however, usually contain more rivets than standard jeans. The reason for this goes back to the fundamental purpose of carpenter jeans.
Carpenter jeans are worn by construction workers, many of whom work laborious jobs that require an extreme amount of physical activity. The presence of the extra rivets makes carpenter jeans stronger and, therefore, better protected against damage.
Other Features of Carpenter Jeans
Carpenter jeans have a few other noteworthy features. For starters, they are typically constructed of heavier denim than other, standard jeans. All jeans are made of denim, which is basically cotton with a warp-faced weaving pattern. The denim used in the construction of carpenter jeans, however, is thicker and heavier than the denim found in standard jeans. With heavier and thicker denim, carpenter jeans are able to withstand greater stress without sustaining damage.
Although there are exceptions, many carpenter jeans also have wider belt loops than those of standard jeans. Standard jeans usually have relatively thin belt loops. Carpenter jeans, on the other hand, have wider belt loops. The purpose of these extra-wide belt loops is to accommodate a wider and thicker belt, which most carpenters prefer wearing.
Tips on Choosing Carpenter Jeans
If you're planning to purchase a pair of carpenter jeans, there are a few things you should know. Like with all jeans, carpenter jeans are available in a wide range of colors. While many people prefer carpenter jeans in traditional colors like indigo or light blue, you shouldn't restrict yourself to these otherwise conventional colors. Instead, explore some of the alternative colors in which carpenter jeans are made Maybe a pair of black carpenter jeans offer the highest level of versatility for your fashion taste, or maybe you enjoy an even more unique color like red or green. Regardless, you should explore all the colors in which carpenter jeans are made.
Don't forget to choose the right size when purchasing carpenter jeans. If they don't fit, you probably won't wear them — not frequently, at least. It's frustrating when you finally find and purchase a pair of carpenter jeans, only to discover that they don't fit. Whether they are too big or too small, you should strive to avoid these problems by getting the right size.
The good news is that MakeYourOwnJeans offer custom sizing on all our jeans, including carpenter jeans. When you order carpenter jeans from us, you can tell us your measurements. We'll then use these measurements to create a pair of custom-sized carpenter jeans that fit perfectly. Don't make the mistake of purchasing carpenter jeans in the wrong size. Order them from MakeYourOwnJeans to ensure they fit perfectly.