Although the name would suggest otherwise, "boyfriend" jeans are actually designed for women, not men. If that has you scratching your head and asking: what are boyfriend jeans? – don't worry, your not the first one. It's just a name and they are meant for you. They offer the perfect combination of traditional style with a modern touch to create a truly remarkable appearance. 
Whether you are a fashionista or not, you should have little-to-no problem creating a magnificent look with a pair of boyfriend jeans. Assuming this is your first time hearing about this style of jeans, however, you might be wondering what makes them different from traditional jeans. Well, today we're going to tackle this question, revealing the characteristics and features of boyfriend jeans.
Boyfriend Jeans: the Basics
Some people assume that boyfriend jeans are intended for use by men, but this isn't necessarily true. On the contrary, they are intended for use by women. While some manufacturers and fashion companies may have their own definition for the term, boyfriend jeans typically refers to a special type of denim jeans that look and feel like a pair of men's jeans after they've been worn in. 
Before they were invented, women would often borrow their boyfriend's jeans to wear. This spawned a new era of denim in which manufacturers began to mimic the characteristics of these worn-in jeans but designed them for women instead of men.
Benefits of Choosing Boyfriend Jeans
Of course, there are several key benefits to choosing boyfriend jeans over traditional denim jeans, one of which is the increased comfort and softness. As mentioned above, boyfriend jeans are designed to mimic both the look and feel of men's jeans that have been worn in — and when you wear jeans long enough, they become softer and more comfortable. 
A premium pair of boyfriend jeans will retain these characteristics, allowing for a higher level of comfort. They are softer, more supple, and all-around more comfortable to wear than traditional denim jeans. If you've been gravitating towards stretch jeans because of the comfort, getting a pair of boyfriend jeans may change your mind.
Boyfriend jeans also tend to be more relaxed in the leg and thighs than traditional denim jeans. This distinct characteristic allows for greater mobility when wearing them. So if you're planning to remain active and move around, you may want to choose boyfriend jeans for this very reason. The increased range of mobility will allow you to bend your legs with ease, without causing discomfort.
Can't You Just Fit Into a Pair of Men's Jeans?
You might be wondering why you can't just borrow a pair of men's jeans to achieve a similar look and feel. Well, boyfriend jeans are typically created with the woman's shape and figure in mind. You can always borrow a pair of denim jeans from your boyfriend, spouse, male friend, etc., but it won't offer the same look and feel like a genuine pair of boyfriend jeans. 
Boyfriend jeans are designed with the woman's figure in mind. Therefore, you can expect them to fit better and look more natural when worn. This is why so many women — young and old alike — are choosing to buy and wear boyfriend jeans.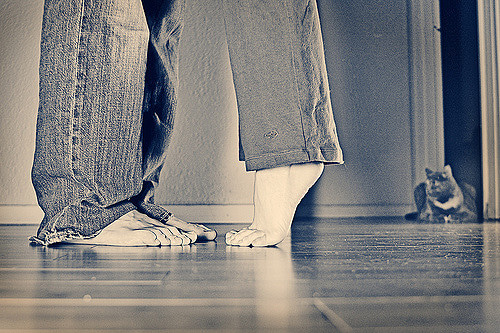 How Do You Wash the Jeans?
Fortunately, washing boyfriend jeans requires no special techniques. Treat them like you would any other pair of jeans and you don't have to worry about anything. One of the benefits of owning these jeans is the practicality, and that extends to washing.
Things to Consider When Shopping for This Style of Jeans
Like most styles of denim jeans, boyfriend jeans are available in dozens of different colors/washes, ranging from traditional light blue and indigo blue to red, yellow, and even black. You really can't go wrong with a pair of deep indigo-colored boyfriend jeans, as they are easy to match with a variety of different garments and outfits. But feel free to experiment with other colors and styles which are not mentioned here, as well.

Boyfriend jeans are also available in a wide variety of cuts. Think about when and how you'll be wearing the jeans and choose the cut that's best suited for your needs. If you plan on wearing them with boots, for instance, it's probably a good idea to choose boot-cut boyfriend jeans. But if you plan on wearing them with over-the-top boots, perhaps slim or straight-leg is a better choice.

Traditionally, boyfriend jeans sit low on the waist, but they are also available in mid and high-waisted varieties. If you can't seem to decide on a waist style, choose low-waist. It's a classic choice that's perfect for boyfriend jeans.

Do you prefer distressed or non-distressed jeans? Boyfriend jeans are available in both styles, with many women preferring the distinct look of distressed denim. Regardless of which style you prefer, you really can't go wrong with either variety.

Do you like

non-strech jeans

? Boyfriend jeans are comfortable enough that you may not need stretch jeans, even if that's what you're used to wearing usually. Of course, stretch boyfriend jeans are also a perfectly good option.

We've talked about this before on our blog, but it's worth mentioning again that darker washes have a more formal and dressier appearance than lighter washes. When choosing boyfriend jeans to wear for a formal or semi-formal event, stick with a dark wash. On the other hand, lighter washes are perfectly acceptable for casual and semi-casual events.

Consider custom ordering your boyfriend jeans from the denim experts here at

MakeYourOwnJeans

. Doing so will allow you to specify your own measurements to create the perfect fit.
The Bottom Line on Boyfriend Jeans…
To recap, boyfriend jeans are essentially women's jeans that have been made to look and feel like a pair of worn-in men's jeans. They are often made using stone washing techniques to achieve a softer feel. 
Furthermore, they are designed with wider leg and thigh openings, often sitting low to the waist. This makes them ideal for women of all ages and backgrounds who are hoping to create a stylish, unique look that sets them apart from the crowd.
Shopping for a pair of boyfriend jeans for the first time can be a daunting task, simply because there are so many different styles from which to choose. However, the first step in choosing the perfect pair is to determine your color preference. Darker washes are an excellent choice, but some women prefer lighter colors. 
wIn addition to the wash, you should also consider whether you want distressed or non-distressed denim, the cut, and of course the size. Custom ordering your jeans will ensure the perfect fit, eliminating the possibility of your new boyfriend jeans being too large or too small.
So, what are your thoughts on boyfriend jeans? Love 'em or hate 'em?