Jeans come in many different styles. While some of them have narrow and straight legs, others have wide legs. Known as wide-leg jeans, they've become a popular choice among fashion-conscious women. Wide-leg jeans are comfortable, stylish and long-lasting. Unless you've worn them in the past, though, you might be wondering how wide-leg jeans differ from other denim styles.
An Introduction to Wide-Leg Jeans
Wide-leg jeans are denim trousers that are designed to fit loosely in the legs. They don't run straight through the legs, nor do they become narrower through the legs. Wide-leg jeans have a tapered design in which they become baggier towards the bottom.
Although there's no universal definition for the term, jeans are typically considered wide-leg if they measure at least 20 inches in the hem. To find this measurement, take a tape measure and run it across the bottom-most part of one of the pant legs. If it's 20 inches or wider, they are probably wide-leg jeans.
Wide-leg jeans are usually labeled as well. If a pair of jeans is designed with tapered legs that become wider towards the bottom, they will likely feature "wide-leg" on the tag.
Some people assume that wide-leg jeans are a new fashion trend, but this isn't necessarily true. Although they've risen in popularity as of late, wide-leg jeans have actually been around for several decades. Some of the first wide-leg jeans appeared during the 1980s, during which they were worn by famous musicians and celebrities. Over the next two decades, the general public took notice by wearing them as well. Today, wide-leg jeans
Reasons to Choose Wide-Leg Jeans
Wide-leg jeans offer many of the same benefits as traditional jeans but with a few extra perks. Like all jeans, they are strong and durable. That's essentially what distinguishes jeans from conventional cotton pants and trousers. Jeans are made of denim, which features a unique weaving pattern that makes it stronger and more durable than conventional cotton.
Wide-leg jeans are very comfortable. After all, they have spacious legs that provide plenty of room for movement. If you've ever worn skinny or straight-legged jeans, you may recall them restricting your movement. Skinny and straight-legged jeans have narrow legs with a minimal amount of space. Therefore, it can be difficult to bend and move your legs while wearing them. Wide-leg jeans don't
You don't have to worry about wide-leg jeans shrinking to the point where they no longer fit in the legs. Wide-leg jeans can still shrink. All garments can shrink — it's a natural phenomenon that occurs when a garment is exposed to heat from washing and drying. The good news is that wide-leg jeans are less susceptible to the effects of shrinkage than other styles of jeans. Even if they shrink, they should still offer plenty of space in the legs.
Other Leg Styles
Wide-leg is just one of several leg styles in which jeans are made. As previously mentioned, there are also straight-leg jeans. Straight-leg jeans don't have tapered legs. They don't become wider in the legs, nor do they become narrower. Straight-leg jeans receive their namesake from their straight legs. Both of their legs run completely straight from the waistline to the hem.
Another common leg style is cropped. Cropped-leg jeans, of course, are cropped. In other words, they don't extend all the way to your ankles when worn. Cropped-leg jeans are cut several inches above the ankles. These are just a few common leg styles. You'll probably discover other leg styles when shopping for jeans.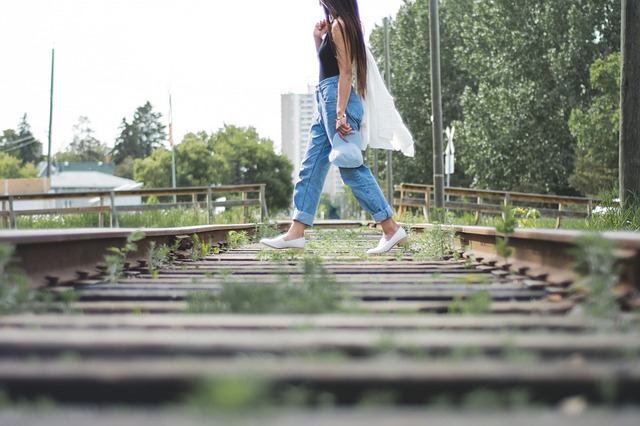 Things to Consider When Buying Wide-Leg Jeans
You should consider the type of denim used in their construction when buying wide-leg jeans. All wide-leg jeans are made of denim. There are different types of denim, however, each of which has unique characteristics.
Washed denim, for instance, is washed during production, whereas dry denim is not washed during production. Because it's washed, wide-leg jeans made of washed denim are better protected against fading than those made of dry denim. Washing helps to release any loose dye so that the jeans are less likely to fade in the future.
Some wide-leg jeans are made of stretch denim. Known as stretch jeans, they are stretchier than wide-leg jeans made of regular denim. Stretch denim still features the same cotton material as regular denim. The difference is that it also contains an elastic material. Wide-leg jeans made of stretch denim have an elastic material embedded in them, which is responsible for their stretchy characteristics.
Don't forget to consider the size of the legs when buying wide-leg jeans. Most wide-leg jeans measure at least 20 inches at the bottom of the legs. The exact size, though, can vary. You don't want to choose a pair of wide-leg jeans that are too narrow in the legs. If they are too narrow, they won't offer the same unique and attractive appearance as true wide-leg jeans.
How to Maintain Wide-Leg Jeans
Wide-leg jeans require the same steps to maintain as most other jeans. You'll need to clean them by washing them. Some people prefer to hand-wash their wide-leg jeans, whereas others prefer the convenience of machine-washing them. Regardless, you'll need to wash your wide-leg jeans regularly to keep them clean.
Fortunately, you can clean wide-leg jeans either by hand-washing or machine-washing them. Even if they are made of stretch denim, all wide-leg jeans are safe to clean using either of these washing methods. Just remember to read the care label beforehand. The care label contains tips from the manufacturer on how to properly wash and dry them.
You should try to keep your wide-leg jeans off the ground as well. Because they have baggy, loose-fitted legs, they may drag on the ground when worn. Allowing your wide-leg jeans to drag on the ground is a surefire way to damage them. Over time, the hems will degrade. Eventually, they may begin to unravel. To make your wide-leg jeans last, you must keep them off the ground.